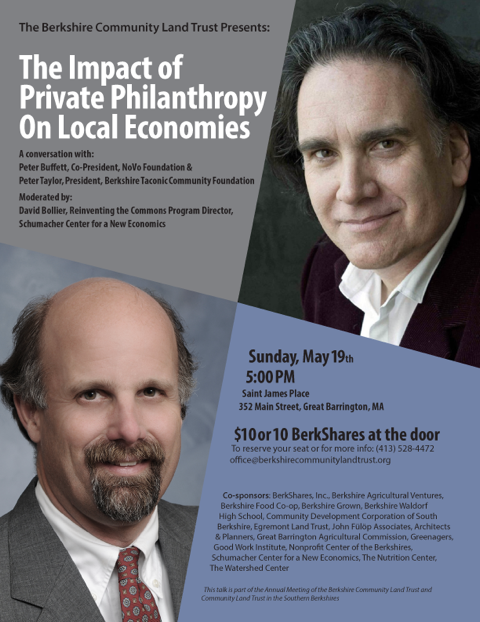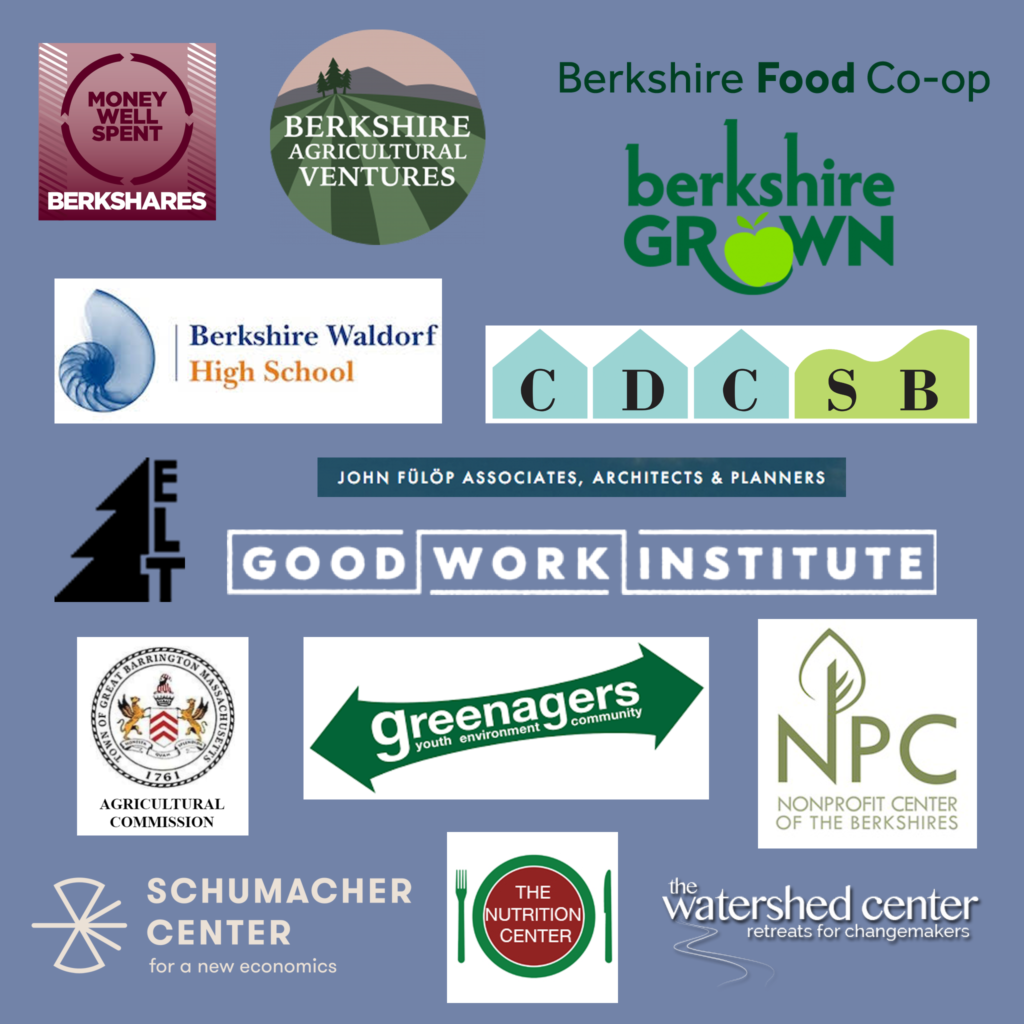 On Sunday, May 19th at 5PM at Saint James Place in Great Barrington, Massachussets, Peter Buffett, co-president of the NoVo Foundation in Kingston, NY, and Peter Taylor, president of Berkshire Taconic Community Foundation (BTCF) in Sheffield, MA, will speak at the joint Annual Meetings of Berkshire Community Land Trust and the Community Land Trust in the Southern Berkshires.  They will address the topic of how consciously-placed private philanthropy can transform and invigorate a local community and its economy. David Bollier, Reinventing the Commons Program Director at the Schumacher Center for a New Economics, will moderate the discussion. He is the author of Think Like a Commoner (2014) and co-author of the forthcoming Free, Fair and Alive: The Insurgent Power of the Commons.
By leveraging both capital and influence and then convening multiple regional players, Peter Buffett has helped to reshape the Hudson Valley's economy and make it one of the most talked about communities in the Northeast.  Together with his team at the NoVo Foundation, Buffett has assembled a network of farmers, artists, makers, conservationists, government officials, business leaders, activists, health care practitioners, educators, and fellow philanthropists to work towards creating a regenerative economy.  As a musician and composer, Buffett often performs around the country to celebrate community engagement and bold, courageous philanthropy.
Peter Taylor is president of the Berkshire Taconic Community Foundation, a regional nonprofit organization focused on strengthening communities through philanthropy and leadership. Taylor is also a fellow in the Local Economy Foundation Circle organized by BALLE (Business Alliance for Local Living Economies).  Circle participants explore strategies utilized by community and health foundations that are aimed at building resilient local economies. This experience is helping Taylor, in collaboration with community partners and the foundation's board and staff, identify new opportunities for philanthropy to support economic development.  Prior to joining BTCF, Taylor led the development of a $4 million loan program at the Maine Community Foundation for the purpose of supporting town-center development as well as food and agriculture related projects.
The topic of the May 19th event, "The Impact of Private Philanthropy on Local Economies," is of special interest to the Trustees of Berkshire Community Land Trust and Community Land Trust in the Southern Berkshires.  Because there is an ever-widening wealth gap in our economy, the need to expand access to land is urgent. Land access lies at the heart of issues of equity, affordable housing, livable cities, regenerative agriculture, ecological restoration, renewable energy, and social entrepreneurship.
Community land trusts provide a tested vehicle for fair, voluntary, and democratically managed allocation of land.  Yet the amount of land in community land trusts throughout the U.S. is not equal to the need.  With the market price of land as high as it is, a culture of land gifting is crucial to acquiring sufficient land to lease to those without affordable land access. The community land trust structure ensures that land will remain in a regional Commons rather than returning it to the market and relentless price increases, while at the same time allowing lessees to build equity in improvements on the land.
Ideally, donations of working land to community land trusts will become as common as gifts of ecologically significant lands are to conservation land trusts.  Working lands include land for farming, housing, retail, office buildings, educational facilities, manufacturing, and historic preservation – all necessary elements of a sustainable community.
The discussion between Peter Buffett and Peter Taylor aims to highlight the importance of engaged, consciously-placed local philanthropy, including the role of land gifting, in building resilient regional economies.
The event will be held in the Sanctuary of Saint James Place, 352 Main Street, Great Barrington, Massachusetts from 5PM to 6:30PM on Sunday, May 19th. Admission is $10 or 10 BerkShares.
Reserve a seat by emailing office@berkshirecommunitylandtrust.org or by calling (413) 528-4472. Watch videos of talks from previous Annual Meetings at www.berkshirecommunitylandtrust.org
Admission is free to members of the Berkshire Community Land Trust. Annual Membership is $10 or 10 BerkShares. Checks can be sent to: Berkshire Community Land Trust, P. O. Box 276, Great Barrington, MA 01230. To make a donation or submit your dues via credit card, please visit our website.
This event is co-sponsored by: BerkShares, Inc., Berkshire Agricultural Ventures, Berkshire Food Co-op, Berkshire Grown, Berkshire Waldorf High School, Community Development Corporation of South Berkshire, Egremont Land Trust, John Fülöp Associates, Architects & Planners, Great Barrington Agricultural Commission, Greenagers, Good Work Institute, Nonprofit Center of the Berkshires, Schumacher Center for a New Economics, The Nutrition Center, The Watershed Center.